Weekly Digest #24- The Yearly Roundup
Updated: Jan 19, 2021
The Paperless Press- Weekly Digest #24
Find us on Instagram!- @thepaperlesspress
We are also on Youtube- The Paperless Press
TOP STORIES
Yearly Gaming Roundup- The BEST video games of 2020
By: Mihir Rao
As the year comes to a close, with New Year's Day right around the corner, it's time to talk of the many games that really got us hooked throughout the year! Think you missed out on a fun game? Don't worry, I will cover different games ranging from them being on iOS and android, to being on the Computer!
6. Fortnite
This game is extremely cringey to many people, but no one can deny that it is a very popular game. Made in 2018, Fortnite has 2 modes: Battle Royale and Save the world. In save the world ,there are zombies which are created by a mystical storm which kills anything it envelops. In arguably the more popular mode, 100 Players have to battle it to the death with a variety of guns and explosives while the mystical storm envelops the whole island. This game almost completely changed the dynamic through which video games are played, and lived a popular life, albeit a short one.
5. Call of Duty: Warzone
This game is extremely popular. Call of Duty games have always been a staple of the hard core gamer, but when they released a free to play game near the end of Fortnite's popularity, it filled the space that was left from Fortnite. Call of Duty Warzone is set in a fictional place in Russia, during the Cold War where you are part of a side that fights against the other side (eloquent language, I know). It has gained a LOT of popularity and is still going strong.
4. Fall Guys
This platformer had a very short lived period of success. Fall guys was like a battle royale game, but with a twist. There would be a selection of players who would have to go through a set of different challenges and come out victorious. The challenges range from running to the end as fast as you can, to team games. The game is available on PC as well as PS4.
3. Spider-Man: Miles Morales
The sequel to the critically acclaimed Spider-Man PS4, it is about the story of Miles Morales, a normal teenage boy, who suddenly gets powers, and has to protect his city when his mentor/friend Peter Parker leaves for a study trip. The story may use the same characters as the prequel, but the story is fresh and will hook you. If you have a PS4, this is a must play.
2. Among us
This game took over the year and completely changed our view of games, as a whole. In the future, when weird hybrid humans are sent to space and are coming back from a space voyage when they notice something: They are dying, slowly. Apparently, a shape shifting alien transformed into one of the crew mates and is slowly killing all of them. It is up to us, the players, to find out who is the impostor.
1.Minecraft
This game is a classic. It has revolutionised the gaming industry as a whole and was the inspiration of many games we see today! In Minecraft, you are Steve, a blocky character who has to survive and thrive in a world. It also has a multiplayer mode which is unbelievably massive. If Minecraft has infinite possibilities, the multiplayer has even more possibilities than that!
And here we are, at the conclusion. Even though these games are extremely popular, we cannot forget the games that weren't popular this year also. They are equally important and maybe even more important.
Popular doesn't always mean that it is good. Just because one doesn't have fame doesn't mean one's opinion is not important.
'Everyone's opinion is equally important' ~ The Paperless Press
-------------------------------------------
Cover Story
This year in positivity- The BEST of positive news of 2020
By: Abhimanyu Rao
In a year full of sadness, disappointment, and isolation, we have begun to cherish every little bit of happiness that comes our way, and this has helped us feel great, even in the darkest of times. As a matter of fact,The Paperless Press was started with this very belief - to highlight positive news, however small, and share them with all our readers.
While the history books may forget about everything except the pandemic itself, this is to ensure that you hold on to all the good times, and when you are telling your grandchildren about 2020, instead of having scary flashbacks that traumatise you, you will remember the 'Good Ol' Days'!
9. This year made us happy with positive and diverse representations! Not only on the political front, where Kamala Harris was the first female Vice president of the US, their cabinet featured the first African-American Deputy Secretary of the Treasury, the first Hispanic White House Social Secretary, the first female Director of National Intelligence, and the first Latino and Immigrant Secretary of the Department of Homeland Security, Jacinda Ardern won another term as PM in New Zealand! This year's shortlist at The Booker prize was the most diverse ever, and we hope this trend continues. This kind of inclusion is exactly what we need for a better tomorrow!
8.Africa is plagued by wild polio no more! Africa's battle with wild polio is over, and the last case that ever recorded was in northeast Nigeria in 2016. This is a huge step, because in 2012 itself, Nigeria made up half of all the wild polio cases in the whole world! To go from that to having no cases is truly the achievement of the year!
7. Wildlife has truly had a chance to heal during the current pandemic. As Agastya wrote in Weekly Digest #6, wildlife has really healed in the pandemic, and while we have stayed at home for the better part of the year, wildlife has been thriving, and the earth has been healing. Pollution levels had dropped drastically, but just our luck, the one time there was clean air, we had to wear masks!
6. Use of sustainable energy was at record high levels in 2020, and all proficient charts and trends show that sustainable energy will become the largest energy source by 2025! Yes folks, so in five years, if we stay strong and dedicated, we will be closer than ever to a sustainable planet, and further than ever from apocalypse! Even better, Joe Biden's policies, the ones he talked about during his campaign, have the possibility to make this task even quicker!
5. Local tourism has always been a smaller market than international tourism, but this pandemic had countries temporarily blacklisted on flight lists, while cabin fever was still on the rise. The only answer to this that people saw was local travel, within their own states and countries, and they explored the hidden treasures of the land, thereby giving an extremely undervalued industry a great boost!
4. Countries and cities that were overrun by tourism and had reached a breaking point got a well deserved break! (Think Venice and the many giant cruise ships that docked there every day, regurgitating thousands of day trippers.) If you live in a country that gets a lot of tourists, you will probably get fed up with it. After all, there will be some kind, responsible, caring tourists, who pick up after themselves, and some who are the complete opposite! This, along with the unpredictability of whenever a tourist can come, makes jobs here very stressful, and this pandemic has been a real breather for these people, so that instead of tending to tourists in their countries, they can travel through the country themselves.
3.To honor someone who has given a lot to the agency and the country as a whole, NASA named it's Washington DC headquarters the 'Jackson NASA Headquarters', after Mary W. Jackson, the mathematical genius behind several NASA missions, a human computer who defied both gender, and racial stereotypes to reach the top. You may remember her from the film 'Hidden Figures', where she and two of her friends reach stardom in their respective fields. So if you haven't watched it, you must!
2.Actor Sonu Sood organized a safe passage for thousands of migrants at the start of the lockdown, and continues his humanitarian efforts even now. Alumni of the National Law School, Bangalore carried out a similar effort on a large scale by helping migrant labour reach their homes across the country, including by reserving entire flights for this purpose. Students from schools all over the country carried out fundraising efforts to help those in need. Teachers all over the country found innovative ways to ensure their students did not miss out on lessons. Displaying remarkable resilience, students adjusted to virtual learning in no time. (We acknowledge that there are still many students all over the globe for whom virtual school has been impossible, and we hope they get a chance to return to school soon).
And Now, Time for an Honourable mention…
The Paperless Press was born! As funny as this may sound, The Paperless Press has been spreading positivity for half a year, and we could not be more grateful with the encouragement and support that we have gotten. So I thank myself for getting an honourable mention!(just kidding!)
1.Family Time! The biggest gift that the pandemic has given us is families having time with each other. For many families where one or both of the parents are never, or rarely at home, this pandemic has given them a chance to spend time together. This time is irreplaceable, as lost time can never be regained, but this has been able to make up for it, even if it isn't in the best of conditions for the world! As an added bonus, being at home gave children a chance to step up, help out with chores at home and learn some much-needed life skills.
-----------------
The BEST of sports in 2020
By:Agastya Rao
This year has been erratic, especially for sports. With the pandemic causing closures of sports events and training sessions, one wondered what would happen to the world of sport. Yet, many sports managed to continue and entertain us in a bleak year, and gave viewers something to rally around. I decided to chronicle the 10 best things that happened in all forms of sports this year-
1.LA Lakers win the NBA Title 2019-20-
The LA Lakers clinched their record equalling 17th NBA Championship title in history, and they beat out the Miami Heat to win the title. LeBron James was also awarded his 4th finals MVP (Most Valuable Player). Will they be able to work their magic again and win a record breaking 18th title?
2.Dominic Thiem wins the US Open-
The 2020 US Open in Tennis surprised 99% of the world. Novak Djokovic was disqualified for hitting a line guard with a ball (controversially) and Rafael Nadal and Roger Federer (2 out the big 3) did not participate because they were injured. This left some of the 'Next-Gen' players who are said to be the next best players in tennis, once the big 3 retire. The two who battled it out and made it to the finals were- Alexander Zverev and Dominic Thiem. This battle resulted in Dominic Thiem winning his first Grand Slam ever, and he reached a year end, career high rank of World Number 3 in the Men's single's draw.
3. Robert Lewandowski won the FIFA Men's Player of the year, Lucy Bronze won the FIFA Women's player of the year award-
FC Bayern Munich's Robert Lewandowski beat the two usual FIFA Men's Player of the year award Lionel Messi and Cristiano Ronaldo to win the FIFA Men's Player of the Year award. Manchester City's Lucy Bronze won the FIFA Women's Player of the Year award.
4. Marcus Rashford gets and MBE-
Marcus Rashford, the Manchester United football star, was recently made a Member of the British Empire by the Queen of England. This was because of his campaign and his fight to make sure that the children from economically weaker sections of the United Kingdom do not starve and get ample food and water. He stepped up to help the community and he deserved the MBE.
5.Sumit Nagal won an US Open first round became first indian to do so-
India's Sumit Nagal, has been reaching new heights in tennis. He became the first Indian to ever win the first round of a singles US Open match. He has been playing extremely well and even went on to receive praise from tennis legend Roger Federer! Way to go!
6.Jehan Daruvala- Became the first indian to win an Formula 2 race-
Who said an Indian can never make it to Formula 2? Jehan Daruvala made India proud and became the first Indian to win an Formula 2 race, and even beat now Formula 1 racer Mick Schumacher who also won the Formula 2.
7. Mick Schumacher wins F2 and joins Haas in F1-
Mick Schumacher, the son of the legendary Formula 1 driver Michael Schumacher, has proved to the world that he is no longer living in his father's shadow. Mick Schumacher has won the Formula 2 Championship and is soon to make his debut in Formula 1 with the Haas racing team.
8.The Mumbai Indians won the Indian Premier League for a record 5 times-
The IPL has been one of the most famous cricket leagues of all time. This year, the Mumbai Indians won their 5th League Title and made history. The Chennai Super Kings, who were fan favourites for having a high chance of winning, lost and didn't even make it to the playoffs of the IPl- for the first time in the history of the IPL. Fans were extremely disappointed with them. We hope they can make ae comeback next season
9.FC Bayern Munich won the Champions League in the 2019-20 season-
Bayern Munich has been on fire this year. They won the Bundesliga title this season, the UEFA Super Cup, the DFB Cup and now the Champions League title. This adds to their total of 9 Bundesliga titles over the years. They really are a PHENOMENAL club. Their captain, Manuel Neuer was also awarded the FIFA Best Goalkeeper of the Year. Fellow team member Robert Lewandowski was also awarded on that same day- he won the Best Player of the Year award.
10. LeBron James was crowned the TIME magazine's athlete of the year-
LeBron James further filled up his trophy cabinet, and in addition to being a major activist this year and for helping the LA Lakers win their 17th Title, and being the Finals MVP he was crowned the TIME Magazine's Athlete of the year, This year has been great for him! We wish him the very best for the next season :)
Special Mention- The Top 3 NBA Draft Picks-
The Top 3 Draft Picks of the NBA were-
1.Anthony Edwards- drafted at #1 by the Minnesota Timberwolves
2. James Wiseman- drafted at #2 by the Golden State Warriors
3. LaMelo Ball- drafted at #3 by the Charlotte Hornets
That's all for this year, dear readers. Thanks for sticking around with us for almost 6 months now! Check back to your friendly neighbourhood Weekly Digest in 2021, in digest 25! We wish you a Merry Christmas and a very Happy New Year!
---------------------
By: Abhimanyu Rao
Mr. Ahmen Khan created a community refrigerator outside a hockey academy. He said that there is a certain dignity in opening a fridge and taking out food for yourself, and that people must understand that your street is also your community. This Blue Refrigerator went viral, and people from all over Hong Kong have come to fill it with various food Items.

Many of you might have your hearts broken as you watch stray dogs roaming the streets, who want nothing but affection, love, food, and most importantly, a home. Well, Mr. Abhijit Dowarah felt heartbroken as well, so when he noticed that old, box-like televisions have been discarded, he discovered that their hollow shells could be used as homes for stray dogs. I'm sure our furry friends will be eternally grateful to him for it!

A rescue worker from Thailand, Mr. Mana Srivate has been a rescue worker for 26 years, but in all those years, he has not done anything as unique, or as remarkable as what he did on the 20th of December, 2020. He saw a baby elephant who had been hit by a motorcycle, and while his colleagues tended to the motorcycle rider, he tried CPR on the baby elephant, who was currently not breathing, and then was overcome by emotion when the elephants moved. A lot of animal lovers this week, eh?
-------------------------------------
By: Agastya Rao
-A college student becoming Mayor of a town? No one would have even thought that it could be possible; until today. Arya Rajendran, who is currently a college student from Thiruvananthapuram, may make story history and become the mayor at the age of just 21! She was the youngest member of her party and won in the Municipal elections, and she is favoured as a candidate to be recommended to be Mayor. Now wouldn't that be a New Year present!
-The Pandemic has made Planet Earth rejuvenate and let wildlife crawl out of the shadows. Scientists have discovered new 'cryptic' animals. The discovery of these new species of animals has been leading to show us how diverse our planet truly is. Scientists have been using a technique known as 'DNA Barcoding' to help differentiate between the species and types of animals there are. This has led to a series of breakthroughs in their discoveries, as it helps scientists dig even deeper and see minute details and differences. Way to go scientists!
-We have all seen the movie, the Ice Age which showed us the harsh permanent winters of the Ice Age. So, how did our ancestors survive the Ice Age, perhaps by hibernating. Yes, you read it right- by hibernating. Scientists have dug up damaged fossilised bones, in a cave known as the 'pit of bones' in Spain. The research says that our ancestors may have slowed down their metabolism and slept through the winter. I wonder, will I ever be able to sleep through a winter's day and not wake up for school….. how I wish I could :)
-A phenomenon that has not happened in the last 20 years, happened a few days ago! It happened on December 21st when both Saturn and Jupiter were at their closest! The two planets aligned very closely, and it is reported that they were only 0.1 degrees away from each other.
----------------------------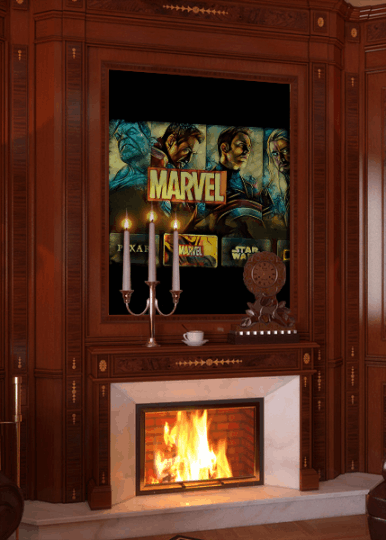 Entertainment quotient for the week:
A.Apple TV+
A Charlie Brown Christmas
B. Netflix
C. Disney + Hotstar
---------------
By: Mihir Rao
Tennis
After months of intense planning, the selections have finally been made. Roger Federer and Serena Williams have been selected for the Australian Open, which is scheduled to start on the 8th of February.
Basketball
On the 25th of December, the Miami Heat won against the New Orleans Pelicans. They beat them by 13 points. Zion Williams was the top scorer with 32 points, 14 rebounds and one assist. On the 26th of December, the Milwaukee Bucks won against the Golden State Warriors by 39 points. The top scorer was Khris Middleton with 31 points, 4 rebounds and 5 assists.
Cricket
On the 26th of December India faced Australia. India will face Australia again on the seventh of January 2021.
------------------------------------
Looking for Books? See how we rank this week's top book- Persepolis by Marjane Satrapi
Video Book review # 10
Reviewed by: Agastya Rao
----------------------------------
Visit these pages to see some of our other endeavours!
Visit A Dogs Daily Antics to laugh your heart out with crazy captioned dog photos!
Visit TheChinappaChannel to see some quirky but nice videos that will make you roll with laughter
Our Request to you-
Here at The Paperless Press, we are committed to saving the Earth and making it a better place. The AQI (Air Quality Index) has rated Delhi pollution as severe. By bursting firecrackers, we are not only polluting the air and ruining our lungs, but are also running the risk of severely injuring birds and animals.This festive season, it is our humble request to you to stop bursting firecrackers, and to stop other people from bursting firecrackers. Only together can we make the world a better place. As always, as our motto goes, 'Pressing a head for a better world'. We shall be saving paper, one article at a time.
A Note To Our Readers:
We thank our readers for supporting us these past months. We truly hope you enjoyed this digest and we hope this put a smile on your face. Here at The Paperless Press, we strive to provide free,fun and positive news. We would be very happy to receive your feedback and receive guest submissions from our readers. We hope that you spread the word and enjoy reading our digests.
-The Paperless Press
We hope this issue brightened up your day!
Contact us at-
The Paperless Press ™