The Paperless Press
Updated: Dec 6, 2020
Find us on Instagram!- @thepaperlesspress
We are also on Youtube- The Paperless Press
TOP STORIES
Crazy Coding!
By: Mihir Rao
Since we have been publishing the weekly digests for more than 5 months now, the coding part had to come up! I have done coding for sometime now, and this time I will talk to you about the building block of the digital age: Coding.
In science class, people might have told you that atoms are the building block of everything and everything is made up of atoms. Well, coding is the exact same thing, except it is for everything digital. But, with the general ambiguity that used to surround coding, there used to be and actually still are many misconceptions about coding..
1. Coding is a language
If you say this, you are only partially correct.. Just like we have many languages that are spoken, coding is a category, with many different languages which can do a variety of different things with. For example, Java is used to code apps for your computer which you can run (like video games), and HTML is used to create websites and customize them..
2.
Coding is just a hobby
Coding is not at all a hobby, and it never was. If something was digitally made, then it was made using coding. I will address this a little later..
Now, you may ask, why should one learn coding? Why is it such a necessity right now? Well, with the takeover of many different jobs by machines, coding is always going to be available, as coding is a unique labour. This means that it will take extremely long for machines to be advanced enough to be able to code, as you have to write something unique.
But, do not shy away, even if it may seem like a daunting task. Coding is like writing a story that comes to life, and to learn coding, you are not supposed to memorize everything. Coding, in that way, is an art. When you learn a language, you speak it uniquely, in your own style, to mean something unique. Coding is the exact same thing, except it just looks a bit different.
To all the people who are reading this who were born before the 1990's, coding wasn't probably as big then, as it was looked upon as a hobby then, and not really as a job.
But, a few people who I will mention now, revolutionized the world in terms of digitalization:
Mark Zuckerberg:
He might be a little less popular than the other names that I will mention, but he is not at all less in his stature. He created the infamous Facebook, known for the unbelievable amount of people on it. If you wanted to get in contact with somebody you know, you would search them up on Facebook, and almost every single time, they would be there. Twitter, Instagram and Snapchat may be looking like the new age of social media, but everyone has to remember that Facebook is not at all dead! When Mark Zuckerberg was in college, he created the social media platform known as Facebook, and when it took off rapidly, he dropped out of college to pursue it.
Steve Jobs:
Now this person was extremely famous. Steve Jobs founded Apple in 1977. Little did he know that Apple would be one of the largest brands to ever exist in the world! It spread everywhere, and it revolutionized the computing world. This was all made using coding.
Back before the 1970's, coding was not even heard of, and now, we have coding all around us! In our phones, computers, sometimes even in our appliances! This shows the advancements of coding.
Coding is becoming more popular increasingly fast, and it is going to probably be in everything we touch and see very soon, so it is time to get on the train, and not miss it!
"Coding is the language of the future"
---------------------------------------------
Cover Story
Joint Article
The Power of Influence
By: Abhimanyu and Agastya Rao
2020 has been the year of being online - offices and schools have been online, families and friends have been meeting over video calls, and movies have headed straight for OTT platforms. Sadly, with the increase in internet usage and the lockdown, so came the mental health spotlight and the technology addiction. In between all this, came your friendly neighbourhood Weekly Digest- The Paperless Press, featuring free,fun and positive news!
We weren't the only ones who stepped out to lend a hand. There were healthcare workers on the frontlines and… Celebrities. Surprised? You won't be after you've read this:
1.Some Good News (SGN): John Krasinski-
On the 29th of May, John Krasinski ( Actor and one of TIME Magazine's 100 most influential people in 2018) launched a YouTube channel to tell people about the positive things that people are doing, and about acts of kindness from all over the world. This channel has since blown up, with more than 2 MILLION plus subscribers. He has now sold SGN to ViacomCBS and will now be available on more platforms. This just proves that when celebrities talk, people listen.( Photo credit- Some Good News)
2. A Starting Point (ASP)- Chris Evans, Mark Kassen and Joe Kiani
The 2020 US Elections were arguably one of the main highlights of 2020. Captain America Chris Evans with his friend and Actor Mark Kassen and entrepreneur Joe Kiani started ASP with the aim of bringing democracy and politics closer to voters. For instance, senators and former politicians from the Democratic and Republican parties in America debate issues, give their opinion and to let the general public know what the leaders they elected are doing. Moreover, they are also encouraging many people to go and vote. (photo credit- A Starting Point)
3. Getting Brownie Cookie points- Paul Rudd
Many celebrities inspired citizens of America to vote in the 2020 election. One celebrity was our very own Ant Man, aka Actor Paul Rudd. He encouraged people to vote, and was even waiting at voting lines and was standing in the rain, handing out cookies to everyone who was voting. When people realised Paul Rudd was there, tweets poured out and out came more voters. News spreading like wildfire on social media- may not always be bad :)
The United States of America had the HIGHEST voter turnout since the year 1900. The Economic Times reported that 66.9% Americans voted in this election.
More examples of celebrities who encouraged people to vote-
Lady Gaga spoke of voting and also campaigned with Joe Biden. Several other celebrities like John Legend, Katy Perry, Lizzo and Taylor Swift, Zoe Saldana, Michael B. Jordan, Jennifer Aniston, Samuel L. Jackson and Jennifer Lopez used their social media platforms to convince people to use their voice, and vote!
Why are celebrities doing this?
A cynical view may be to say that they are doing it to get attention. However, we at The Paperless Press have a more optimistic approach. Many celebrities are aware of the influence they wield, are quite aware of current events, and appear to be keen to make a change. Chris Evans decided to co-find A Starting Point, because he realised that change can only come if people vote and are if governance is not an unknown phenomenon for them.
Should more celebs step up?
Yup… Kanye West stood for President of the United States of America… and we all know how that turned out. Even though he lost, his campaign still gained quite a bit of traction. The simple truth is, when celebrities endorse something- the endorsement usually works. For example, if Cricketer Rahul Dravid endorses a no smoking ad campaign, or if Akshay Kumar acts in a film like Toilet: Ek Prem Katha or Padman, people will actually listen much more than they would if an unfamiliar face endorsed it. On this planet, there is no shortage of fans of celebrities.
Celebrities need to stand up. Whether it is the recent news of former US presidents Barack Obama, Bill Clinton and George W Bush, offering to take the Covid-19 vaccine in public- to convince people to follow suit. Remember "With great power comes great responsibility"?
Just as companies spend millions of dollars getting famous celebrities to endorse their product, if celebs also step up for good causes (for a fee or otherwise), their message will have a greater reach. Even the United Nations believe in this. They have famous celebrities like Emma Watson who is the UN Women Goodwill Ambassador, and Star Wars actor Ewan McGregor who is a UK UNICEF ambassador.
On Long Way Up, a TV show where Actor Ewan McGregor and his best friend and also actor Charley Boorman ride across continents on their bikes, they also stop at many UNICEF sites and talk to children who are there, and cheer them up.
Marcus Rashford, a footballer with Manchester United started a campaign to end child poverty and ensured that all members of low income families get free meal vouchers for school. He wanted to ensure that no one has to starve in school because they cannot afford food vouchers, and will prevent those children from being singled out because they cannot afford food. (Happiness Quotient- Weekly Digest #9)
Everyone has a voice that must be heard, and that voice, no matter how soft, or how loud, can make a change. If you don't believe me, just shout at a bowl full of water, you will see ripples, proving that a voice can change things. Seriously, if you don't speak up, you will never know if people will listen, and if you are still unsure on how you can make a change, look at the cover story in Weekly Digest #20.
So, to sum up the article, celebrities have the privilege of popularising the issues of today, just like the news does. Celebrities can make much more of a change than they probably expect, and they must use this power to help people the way many of them already do, and others will surely do too. When this happens, anyone, from someone who loves watching Manchester United football games, to someone who loves watching Ryan Reynolds movies will be inspired to take a step in the right direction.
-----------------
By: Abhimanyu Rao
-------------------------------------
1.The Indian Railways are on a fast "track"(get it?🤣) to sustainability! They have officially replaced plastic cups with tea in clay cups known as "kulhads"(कुल्हड़). This is a great step towards sustainability, especially as tea is a huge beverage throughout India, and travel within the country is most commonly done by train, and tea, being the popular beverage it is, was served a lot in trains, usually in plastic cups, that is, until now. Now, taking a page from history (who says we can't learn anything from history?), the Indian Railways have begun serving tea in kulhads, in a whopping 7,000 trains!
2.Mr. Ranjitsinh Disale teaches at Zilla Parishad School in Paritewadi, Maharashtra. He recently won the prestigious Global Teacher Award, 2020, and along with that, the whopping sum of 1 Million Dollars, for the noble task of promoting the education of girls in schools. He also created QR codes on textbook, allowed his students to watch video lessons, listen to the audios of poems and stories that they studied, and much more. He then proceeded to shock everyone by giving 55,000 dollars to each of the 9 other runners-up, believing that they had also done good work, and that this would only help them continue their good work as well. This brought about admiration from the Dalai Lama on twitter, who said that we need more people like him in this world.
3.Gitanjali Rao was recently named the Time's 2020 Kid of the Year! She has tackled a lot of issues, like purifying contaminated water for drinking, and even opioid addiction! Her latest creation is a service named 'Kindly' that is dedicated to preventing cyberbullying. She believes that people, especially teenagers, tend to lash out at times, and her app, that uses Artificial Intelligence to detect messages as potentially bullying material, and stops the send, giving you a chance to rethink your words. Congratulations!
4.The Biden-Harris administration had been full of firsts. Not only is Kamala the first Female Vice - President herself, but Adewale Adeyemo will be the first African-American Deputy Secretary of the Treasury, Carlos Elizondo will be the first Hispanic White House Social Secretary, Avril Haines will be the first female Director of National Intelligence, Alejandro Mayorkas will be the first Latino and Immigrant Secretary of the Department of Homeland Security, Cecilia Rouse will be the first woman of color to chair the Council of Economic Advisers, Neera Tanden will be the first South Asian American as Director of the Office of Management and Budget, and Janet Yellen will be the first female Treasury Secretary. Talk about inclusiveness!
By: Agastya Rao
Even though the Second World War ended more than 75 years ago, some old war relics are still turning up. A WWF (World Wildlife Fund) diving expedition was going on normally, until one of the members claimed to have found a typewriter stuck in a net. It was only after they took the 'typewriter' out that they realised that it was an Enigma Machine! Enigma machines were used by the Nazi Army in the World War 2 to send encoded messages. This find was later sent to a museum to get restored.

Remember the mystery monolith found in Utah that we spoke about in Digest #20? A third one has now been discovered in California, after a second was discovered in Romania! This mystery monolith has dumbfounded people from around the world, with no one knowing who made it or where it came from. It resembles something similar to a monolith from the movie, 2001: A Space Odyssey. As to who made it, the popular conspiracy theory: Aliens are behind it, or some prankster.

This week we have some great space news for all the space buffs reading this digest! This Australian telescope is called ASKAP. It has the power to map millions of galaxies at speeds never done before. This shall definitely boost our knowledge about space and shall definitely improve our future space discoveries.

More monolith news- the California monolith that we spoke about just before this, has disappeared! This is after the Utah monolith recently disappeared. At The Paperless Press we are still trying to wrap our heads around this mystery. The monolith was apparently replaced by a wooden cross, before that was removed. Who is behind this? Any theories?
----------------------------
Guest Submission
Art for our sake
Prowl - By: Rohan Jagadeesan, 14
-----------------------------
Entertainment quotient for the week: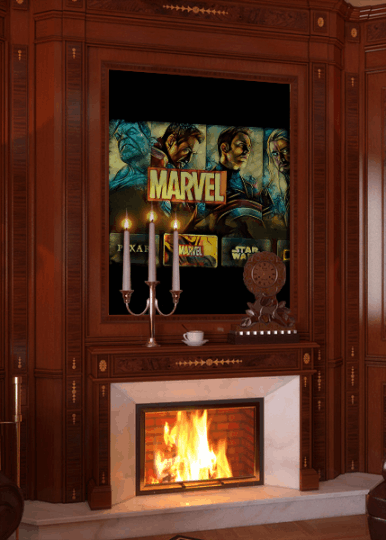 A.Amazon Prime
B. Netflix
C. Disney + Hotstar
---------------
By: Mihir Rao
Tennis.
The 2021 Australian Open is supposed to begin on the 8th of February. The WTA CEO said that he was planning to start the WTA in the first week of January, but the plans of releasing the date are nowhere to be found right now.
Basketball
In other news, Buddy Boeheim will not be able to play for the Syracuse team, as he has contracted the coronavirus. We wish him a speedy recovery. Also, a new logo was revealed for the FIBA Basketball cup.
-The third Ball brother has reportedly joined the NBA. The three Ball brothers, Lonzo currently plays for the New York Pelicans, he is the oldest of the three. LaMelo was recently the third overall pick in the first round of the NBA draft, he is about to make his debut for the Charlotte Hornets. The middle brother LiAngelo, who went undrafted in the 2019 NBA draft, has signed a one-year non guaranteed contract with the Detroit Pistons. Three brothers have never been in the NBA at the same time- with this final move creating history! LiAngelo is currently with the Oklahoma City Blue in the NBA- G league.
Formula 1
- Mick Schumacher the F2 driver who has been racing up a storm, has followed his father Michael Schumacher's footsteps and has entered the formula 1. He will be racing for team Haas. He has big shoes to fill, as his father was a 7-time Formula One champion and had won 91 Grand Prix races, and has been regarded as one of the best F1 racers there are.
Cricket
Even though India lost 2 Matches against Australia in the first part of the series, they came back with a win. They won the first match in the T20 series versus Australia today by 11 runs. India now leads the T20 Series by 1-0. The next match is at 1:30pm IST tomorrow (6th December). Will Australia make a comeback or will India take the series?
------------------------------------
From The Literary World:
Looking for Books? See how we rank this week's top book-
Reviewed by: Agastya Rao
Video Book Review #7 - Ban this book - by Alan Gratz
----------------------------------
Visit these pages to see some of our other endeavours!
Visit A Dogs Daily Antics to laugh your heart out with crazy captioned dog photos!
Visit TheChinappaChannel to see some quirky but nice videos that will make you roll with laughter
Our Request to you-
Here at The Paperless Press, we are committed to saving the Earth and making it a better place. The AQI (Air Quality Index) has rated Delhi pollution as severe. By bursting firecrackers, we are not only polluting the air and ruining our lungs, but are also running the risk of severely injuring birds and animals.This festive season, it is our humble request to you to stop bursting firecrackers, and to stop other people from bursting firecrackers. Only together can we make the world a better place. As always, as our motto goes, 'Pressing a head for a better world'. We shall be saving paper, one article at a time.
A Note To Our Readers:
We thank our readers for supporting us these past months. We truly hope you enjoyed this digest and we hope this put a smile on your face. Here at The Paperless Press, we strive to provide free,fun and positive news. We would be very happy to receive your feedback and receive guest submissions from our readers. We hope that you spread the word and enjoy reading our digests.
-The Paperless Press
We hope this issue brightened up your day!
Contact us at-
The Paperless Press ™
The Paperless Press™
All Rights Reserved